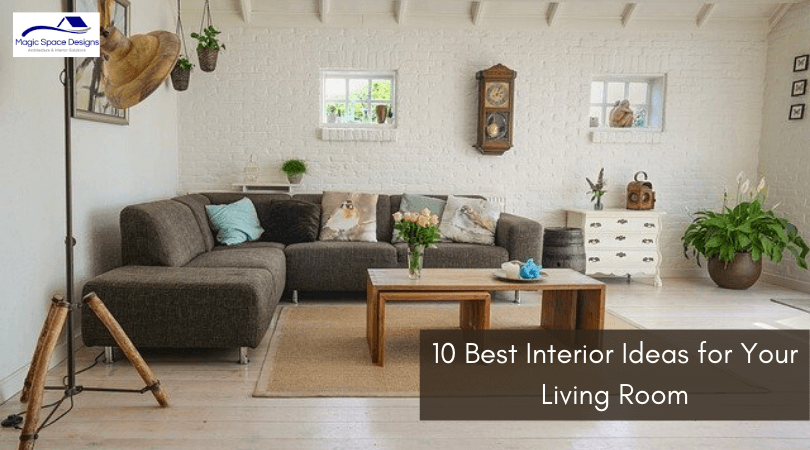 A living room is a place where the family members sit together and spend quality time. You can decorate the area such that it becomes a peaceful room of the house where everyone can relax and get a recharge for themselves after a tiring day.

Here, Magic Space Designs bring you 10 best interior ideas for living room.

Interior Design Ideas for Living Room
1. It is essential to have soothing colours as wall paints in the living room. Do not choose dark colours. Make sure to choose something light and reflecting that gives you calmness when sitting in the living room after a hectic day.

2. Try to have more and more free space in the living rooms that you can sit anywhere and even lie down to experience peace.

3. You have different kinds of furniture in the living room such as couches, sofa, and chairs. The variety makes everyone comfortable.

4. Some nature's elements can be a unique and refreshing addition to the living room. You can either have indoor plants or keep changing the vase with colourful and good smelling flowers.

5. Ventilation is important in every living room. Make sure to have large windows in the living area that can bring in natural light to the space.

6. One big wall in the living room should have the best decor. You can either have family pictures or a classic art piece on it to leave a huge visual impact.

7. In case you have a small living room, you can have one or more mirrors to enhance the aesthetic appeal of the space.

8. Less is always the better. Make sure you have fewer things in the living room.

9. To add a classic element in your living area, you can either have a rug or a carpet on the floor.

10. The more colourful your living room is, the better it looks. Don't stick to one or two colours, add as many as you want through items and furniture.

Follow these interior design ideas for living room.