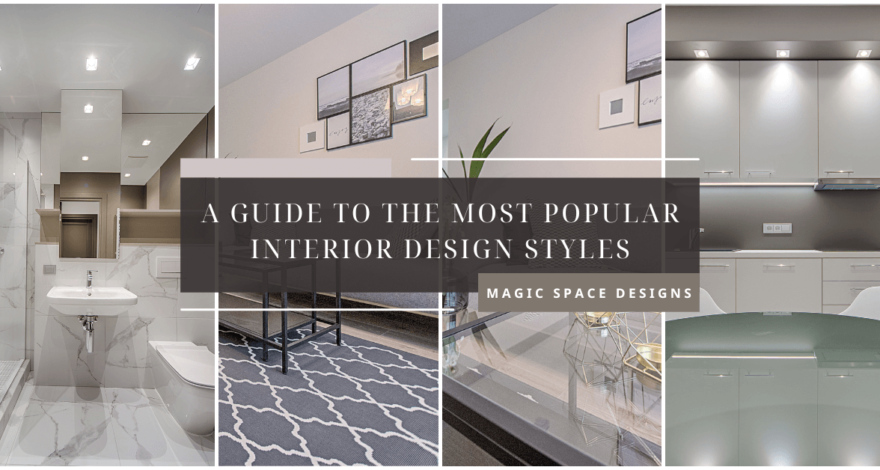 When it comes to interior design, there are literally thousands of styles to choose from. How do you know which one is right for your home? In this guide, we'll break down 19 of the most popular interior design styles so you can make an informed decision about which one is right for you.
Modern interior design is defined by clean lines, minimalist elements, and a clutter-free environment. Furniture is typically made of natural materials like wood or leather and features smooth edges. There's an emphasis on natural light, neutral colors, and the use of intricate patterns to add visual interest.
Mid-century modern is a retro-inspired style that takes elements from the 1950s and 1960s. It incorporates bold colors, geometric patterns, and organic shapes into its designs. Furniture pieces are typically low-slung with thin legs and upholstered fabric or leather options.
Scandinavian interior design focuses on simplicity, functionality, and minimalism. It's inspired by the Nordic countries and uses natural materials like wood, wool, and cotton in its designs. This style is often characterized by light colors, clean lines, and a focus on comfort.
Industrial interior design takes inspiration from factories and other industrial spaces. It combines raw materials like exposed brick, concrete, and steel with softer elements such as leather and reclaimed wood. This style often features large windows, bold colors, and a mix of both modern and vintage furniture pieces.
Contemporary interior design is used to describe the latest trends in home decor. It's characterized by clean lines, neutral colors, and minimalistic elements. Furniture is typically made of natural materials like wood or leather with sleek lines and a minimalist aesthetic. This style emphasizes simplicity and comfort over flashy design elements.
Traditional interior design is characterized by classic furniture pieces, ornate details, and timeless colors. It often includes dark woods, velvet upholstery, and intricate patterns. Traditional spaces typically feature antique furniture and accessories that add a touch of elegance to the room.
Bohemian interior design combines elements from different cultures and eras to create a unique look. It's characterized by bright colors, exotic patterns, and global influences. Furniture pieces are often vintage or hand-crafted and fabrics can range from bold prints to intricate embroidery.
Rustic interior design is inspired by nature, using materials like wood, stone, jute, and leather in its designs. This style is characterized by distressed finishes and natural textures that create a warm and inviting atmosphere. Furniture pieces are often handmade or antique and the color palette typically consists of earthy tones.
Coastal interior design takes its cue from ocean-inspired elements like shells, driftwood, coral, and sand. It's characterized by bright colors, light wood furniture, and indoor plants. This style often features white walls, natural textures, and accents of blues and greens to create a breezy beach vibe.
Eclectic interior design is all about mixing different styles together to create a unique look. It combines elements from traditional, modern, vintage, and bohemian designs for an eclectic feel. This style is all about being creative and breaking the rules to create a unique space. Furniture pieces are often mismatched and colors can range from bold hues to neutral shades.
With so many different design styles to choose from, you should have no problem finding one that works for your home. Consider what kind of atmosphere you want
Conclusion 
There are a variety of popular interior design styles that can be used to create a space that is both functional and stylish. By understanding the different styles and how they can be used, you will be able to create a home that reflects your personal taste and style. If you need help getting started, contact Magic Space Designs. We are a leading home interior designer in Ahmedabad and can help you bring your vision to life. What is your favorite interior design style? Let us know in the comments below.