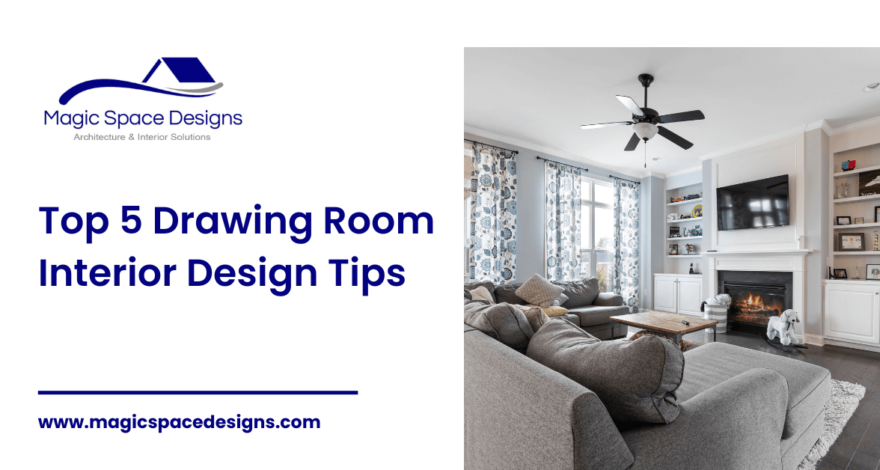 Are you looking to spruce up your drawing room? If so, these interior design tips will help you create a space that is both stylish and inviting. From selecting the perfect furniture to adding a few accent pieces, it's easy to make your drawing room look like a million bucks. Here are five tips for creating the perfect drawing room interior design. 
1.Choose Functional Furniture: Your furniture should not only be stylish but also functional. Choose items that fit the size of your space, as well as provide enough seating for all of your guests. Consider multi-functional furniture such as ottomans or coffee tables that can be used as extra seating when needed. 
2.Add Accent Pieces: Accent pieces are an important part of any interior design plan. These small details can add a lot of personality to your space, so don't be afraid to go bold. A bright rug or patterned pillow can really bring life to a room and tie everything together in a cohesive way. 
3.Incorporate Soft Textures: Soft textures add warmth and coziness to any room and can really make it feel homey and inviting. Consider adding plush pillows, rugs, throws, and curtains in order to give your room an intimate feeling. Not only will this make it more comfortable for guests who visit, but it will also give you something cozy to cuddle up in on those cold winter nights! 
4.Add Some Greenery: Adding plants is one of the easiest ways to spruce up any space, and they can help create a calming atmosphere in your home as well! Choose varieties that require minimal upkeep so that you don't have too much work on your hands with taking care of them each day! 
5.Don't Forget Lighting: Lighting is essential in setting the mood for any room! Opt for warmer bulbs such as LED or incandescent lightbulbs instead of fluorescent ones which can be too harsh on the eyes (not ideal if you have guests coming over). You should also consider adding dimmer switches which allow you to adjust the amount of light depending on what kind of atmosphere you want in the space! 
If you are looking for an top interior designers in ahmedabad that can help you with your drawing room, Magic Space Designs is a perfect choice. With years of experience and a team of talented professionals, we can create a space that perfectly reflects your personality and style. Contact us today to learn more about our services or to get started on your project!