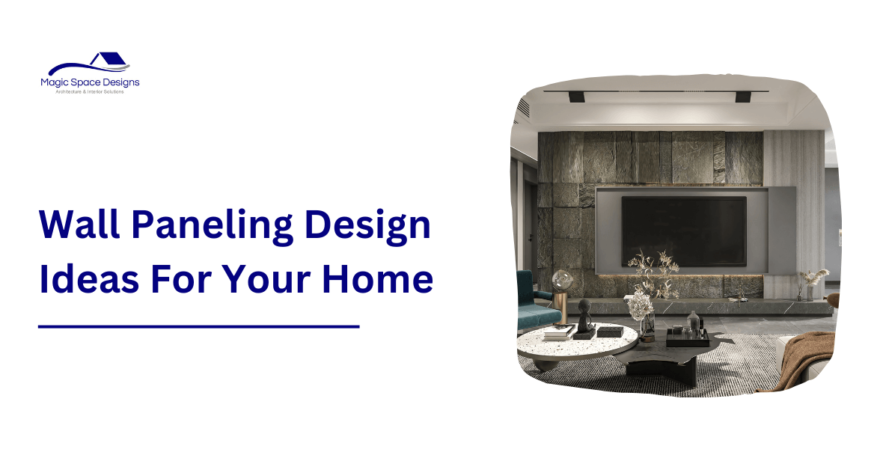 Want to hide the defects and improve the look of your boring room? Just install panelling on the walls! Thanks to this brilliant design idea, you can give any room a dramatic new look and feel. Interested in learning more about panelling for walls? We've got your backs covered, so to speak.
Find out everything there is to know about wall panelling, from the materials used to the prices. In addition, we have gathered a variety of the most modern and chic wall panelling designs for your consideration.
What goes into creating plans for wall panelling?
Insulation panels were once installed between the inner area and the stone walls. However, modern wall panelling is designed to do more than just hide unsightly walls. In addition to improving the room's aesthetics, it also helps prevent damage to walls, hides unsightly cables, and reinforces the structure.
Read More : A Guide to the Most Popular Interior Design Styles
Wall panelling can be put up in one of two ways:
Mounting by means of screws
This method works nicely with thin, smooth panels and straight walls. Screws are used to secure the panels to the wall.
Metal grid frame
In this technique, a metal grid structure is first mounted to the wall, and then the panels are attached to the grid. This method reinforces the panels' stability and support.
Components of Wall Panelling
Wall panelling can be made from many different materials, each with its own set of advantages and aesthetic preferences. Some common choices are:
Solid wood, engineered boards, or wood-like items can be used to fashion wooden panels, which can then be styled with eye-catching box moldings or battens for a dramatic three-dimensional impact.

Wainscot is a type of decorative wall paneling that mixes natural and man made materials in elaborately carved patterns and designs. Wainscot is a decorative wall treatment that is usually applied to the wall's lowest third.

Wood veneer or a particleboard substrate form the sturdy foundation of veneer and laminate panelling. They can be used on either the floor or the ceiling, making them extremely flexible.

Medium Density Fiberboard (MDF) is manufactured by pressing and heating wood shavings. As a wall panelling material, MDF panels are long-lasting and aesthetically pleasing.

Fabric: Wood panels are padded with foam and batting before being covered with fabric of your choice, making them perfect for bedrooms and soundproof entertainment rooms.

Metals: Sleek, modern spaces benefit from metal wall panels. Wall panels made of aluminium, steel, or copper are long-lasting and eye-catching additions to any living space.

The wood-like appearance of chipboard is achieved through the process of heat pressing sawdust and chips. Although not as sturdy as solid wood, it can be used when moisture levels are low to good effect.

PVC: Made from stiff polyvinyl chloride and a tiny quantity of plasticizer, PVC panels have excellent water resistance and durability.

Glass: Walls covered in glass panels will have a glossy, mirror-like appearance, exuding a sense of sophistication and modernity.

Conclusion
There is no better way to update the look of your home than with wall panelling design. Wooden panels, wainscot, veneer, MDF, fabric, metals, chipboard, PVC, and glass are just some of the materials you can use to create the look and functionality you desire. There is a wide variety of wall panelling materials to choose from, including those that create a 3D effect, detailed designs, durability, soundproofing, and a sleek modern finish. Check out the options for wall panelling at Magic Space Designs and see how you can turn your boring walls into eye-catching features.